ABOUT THE ABITA SPRINGS OPRY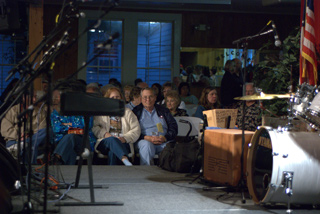 The Abita Springs Opry is a series of music concerts held six times a year and is produced by a nonprofit organization, Abita Opry Inc. The show has the mission of preserving and presenting Louisiana "Roots" music. Our music is played primarily acoustically, in its original form.
Our main thrust is old-time Country, Bluegrass, and traditional Southern Gospel music, but we often present other forms of traditional Louisiana music such as Cajun, Zydeco, Irish, or other types that reflect the many different groups of people who are part of our diverse culture.
What one can expect to hear at the Abita Springs Opry is Louisiana "roots" music played like it was when it was performed before audience in small auditoriums like the Abita springs Town Hall. The Abita Springs Opry, a re-creation of the immensely popular Piney Woods Opry that played at the Town Hall for ten years, has what it considers a valuable mission - The preservation and presentation of Louisiana Roots music.
The main emphasis is on the type of music indigenous to our section of the state, but we do occasionally offer something a little different as Lagniappe - a little something extra, to our show that puts a little more spice into our musical gumbo. We hope you enjoy this little taste of that gumbo, but, more importantly, we hope to see you at the Opry.
The Abita Springs Town Hall is a perfect setting for this show. The hundred-plus year old wooden building serves as a community center for the small town of Abita Springs. Abita Springs is a one stoplight rural suburban community located north of and less than an hour's drive from New Orleans.

The Town Hall has walls lined with pecky cypress and the wooden floor provides an aesthetically and acoustically satisfying environment for the "old style" music. Audiences often clap their hands and tap their feet in rhythm to the sometimes sweet and sometimes energetic sounds that emanate from the stage. The hall has a capacity of slightly less than four hundred and provides an intimate setting that allows close communication between the musicians and the audience.

We are in the process of putting previous shows online. As we add the shows, the titles will be highlighted and a musical note with headphones will appear next to the date. That will indicate you can listen to the performances by clicking on the titles.
ABITA SPRINGS OPRY BOARD OF DIRECTORS

KREWE OF ABITA SPRINGS OPRY


Bryan Gowland - President/ Producer
Lisa King - Treasurer
Kathy Armand - Secretary General
Kent Birkle - Technical Director/Broadcast Audio
Bobby Belloni - Music Director
Jan Biggs - Publicity and Marketing


Stage Manager/MC: Bryan Gowland
Back Stage Mgrs: Jan Biggs and Bobby Belloni
House Audio Engineer: Kent Birkle
Broadcast Audio Engineer: Rob Bentley
Assistant Engineer: Kenny Delbert
Video Mixer: Danny Zechenelly
Camera: Jamie Hooper & Shannon Drinkard
Tickets: Kathy Armand
Concessions: Lisa King
LISTEN TO PAST PERFORMANCES

November 2002
The Abita Strings
Jude LeBlanc
The Driskill Mountain Boys
The Evening Star String Band
Amanda Shaw

March 2003
The Abita Strings
Harold Cavallero, Ken Schwartz & Pat Flory
Broken Grass
Gary White
190 Express
Christian Serpas & Ghost Town

April 2003
The Abita Strings
Vic LaRocca and Joe Manuel
Abigail Brooks
Pot Luck Cajun Band
Joe Manuel and Keith Cole
The White Sisters

May 2003
The Abita Strings
Jeff and Vida
Les Amis
The Porch Rockers
Pat Flory
Hugh Harris

September 2003
The Abita Strings
Rosanne Bivens
Franklin and White Family Band
Earl Ruffins
High Lonesome

October 2003
The Abita Strings
The Carpenter Family
High on the Hog
Scott and Robin Kropog
Magnolia Sisters

November 2003
The Abita Strings
Kostini
Harold Cavallero and Russ Russell
Pat Flory
Hazel the Delta Rambler

March 2004
The Abita Strings
Jude LeBlanc and Abigail Brooks
Red Stick Ramblers
Brothers Apart
Sunpie Barnes

April 2004
The Abita Strings
Beth Patterson
Van Glynn Band
Tony Green
Lenny McDaniel

May 2004
The Abita Strings
Jerry Hess
Harold's Corner & Peggy Forman
E L James and Johnny Pappas
Lee Quick and Gina Foresythe

September 2004
The Abita Strings
Jimmy Foster
Kim Carson
Keenan Knight
Shallow Creek

October 2004
The Abita Strings
Ben Manuel
Jeff and Vida
Harold Cavallero and Danny Paige
Don Vappie and The Creole Serenaders

November 2004
The Abita Strings
The Backroads Pickers
The Driskill Mountain Boys
Bob & June Lambert
Eh, La-Bas

March 2005
The Abita Strings
Jude LeBlanc & Friends
The Rosehill Gospel Singers
Jamie Diliberto
The Red Stick Ramblers

April 2005
The Abita Strings
Beth Patterson
The Balsa Wood Flyers
Joe Manuel and Friends
Wilson Savoy

May 2005
The Abita Strings
Those Oliviers
The Porch Rockers
Big Daddy O
Patchwork

September 2005
Postponed Due to Hurricane Katrina

October 2005
Abita Strings
Justin & Katie Nunez
Luke Thompson and the Green Valley Cut-Ups
Back Roads Pickers featuring Steve Anderson
Cedric Watson and the Creole Cowboys

November 2005
Abita Strings
Jerry Hess
Whistlestop
The Petty Bones
Corey Ledet

March 2006
The Abita Strings
Evening Star String Band
Louisiana Purchase
The Zion Harmonizers

April 2006
The Abita Strings
Beth Patterson
Sam Warren
Hot Club of New Orleans
Shallow Creek

May 2006
The Abita Strings
Joe Manuel and Keith Cole
Sunpie Barnes
Gina Forsyth
The PineEars

September 2006
The Abita Strings
Jimmy Foster
L & M Bluegrass Band
Swamp Road Ramblers
Tom Fisher Jazz Trio

October 2006
The Abita Strings
Betsy McGovern
Russ Russell
Harold Cavellero and Dinosaur Dobro
Cedric Watson

November 2006
The Abita Strings
Jude, Abigail & Clay
The Porch Rockers
Back Roads
Kim Carson

March 2007
Abita Strings
Rocky Mountain Rhythm Bums
Jim Hogg and the Boys
Zion Harmonizers

April 2007
Abita Strings
Bobby LeBlanc
The Pine Leaf Boys
Amedee' Fredrick & Son
Smithfield Fair

May 2007
Abita Strings
Big Daddy O and Keenan Knight
The Petty Bones
Gal Holiday and The Honky Tonk Revue


September 2007
Abita Strings
The Hot Sauce Cajun Band
The Trusty's of Davo Crossing
Tom Fisher Dixieland Jazz Band

October 2007
Abita Strings
Those Oliviers
The Figs
The Fabulous Bagasse Boyz

November 2007
Abita Strings
Jerry Hess
Tony Green
Steve Anderson Group
Mike Pace & the Alabama Gentlemen

March 2008
The Petty Bones
Dirt Billy & Tom Marin
Timberland Drive
New Orleans Jazz Vipers

April 2008
The Petty Bones
The LA LAs
High Ground Drifters
The Ozark Songbirds
Ladyfingers


May 2008
The Petty Bones
Gene Lipps
The Possum Bayou String Band
Ukelele Four
Washboard Chaz

September 2008
The Steve Anderson Group
Robbie Longley
Delta Reign
Chip Wilson
Sherman Bernard & the Old Man River Band

October 2008
The Petty Bones
Kiyoko McCrea
The Tanglers
The Bayou Liberty Jazz Band

November 2008
The Petty Bones
WhistleStop
Jockey Etienne & the Creole Zydeco Farmers
The Zion Harmonizers

March 2009
The Petty Bones
Otis Bazoon Dixieland Jazz Band
Jim Hogg and the Boys
Steve Bing and the Bayou Hot Shots

April 2009
The Steve Anderson Group
Tony Green Trio
Amedee Frederick
The Sweet Tea Bluegrass Band (later)

May 2009
The Petty Bones
The Porch Rockers
The Savoy Family Cajun Band
Christian Serpas & Ghost Town

September 2009
The Steve Anderson Group
Michael Millet and Friends
Julio and Caesar
The Leisure Kings

October 2009
The Petty Bones
Keenan Knight and Friends
Jenny Brooks
Dwayne Dopsie

November 2009
The Pot Luck Sttring Band
The Mauldin Sisters
The Mighty Supremes and the Rosettes
Robert Snow and Friends

March 2010
The Steve Anderson Group
Smoky Greenwell and Mark Pentone
Jeff and Vida
Bruce Daigrepont Cajun Band

April 2010
The Petty Bones
The Fabulous Bagasse Boys
Erika Lewis and Tuba Skinny
Sunpie Barnes and the Louisiana Sunspots

May 2010
Pot Luck String Band
Delta Reign
Johnny Price and "Mojelly"
Don Vappie and Friends